I love a good story. I love to tell stories, hear stories and write stories.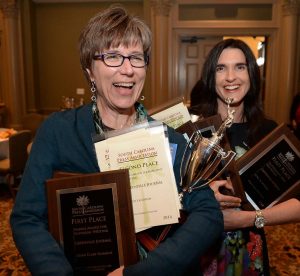 A career journalist, I've spent more than three decades writing for local newspapers in the deep South, pounding out stories as a beat reporter, investigative reporter, feature writer, columnist, editorial writer, and in a final jump to management, executive editor.
I've interviewed governors and mayors, country singers and beauty queens, convicted killers, police chiefs, politicians, CEOs, bank presidents, artists, and hundreds upon hundreds of ordinary people who somehow stumbled into the headlines one day. I ended every day amazed at what people will tell you if you just ask.
Now I'm working on fiction, short and novel-length, and end each day amazed at where "what if" will take you if you dare to follow.
This website is home to some of my stories and musings on the writing life.
***
Susan is a graduate of Young Harris College and Georgia Southern University. A Savannah native, she began her newspaper career as an education reporter at The Augusta (GA) Chronicle. Next came a short stint in Spartanburg, SC as a bureau reporter for The Greenville (SC) News, followed by 15 years covering Greenville for The News as a beat reporter (local government, courts and politics), feature writer, editorial writer and columnist. Marriage and babies diverted her to freelancing for a spell, then she returned to newspapers in 2005 as an editorial writer and columnist for The Greenville Journal, where she became executive editor in 2012. During her four years at the helm, she oversaw the creation and launch of the Upstate Business Journal and the entry of both weekly newspaper staffs into the daily challenge of digital journalism.
Susan's work has earned numerous awards at the state and national levels, including four first place awards from the S.C. Press Association for editorial and column writing and a Suburban Newspaper Association national award for best column. The Greenville Journal won 1st Place for General Excellence and the Journal and UBJ reporting staffs took home the 1st Place trophy for most awards won in their category from the SC Press Association during her final two years as executive editor.
Susan lives in Greenville, SC with her husband, Scott, an architect. They have two grown sons, Samuel and Stephen.